HP enhances PageWide C500 corrugated press
HP has added new feeding enhancements to its PageWide C500 Press to improve converters' operating profit and reduce waste.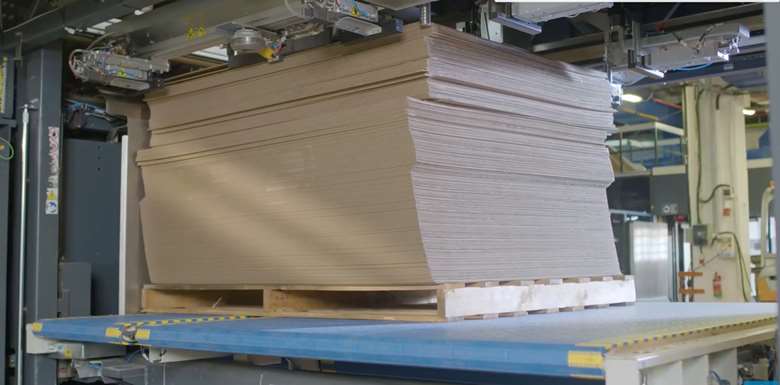 The enhanced sheet-feeding system, which is currently being rolled out at existing PageWide C500 customers, is said to support a wider range of sheets, including thin and micro-flutes, while maintaining a smooth feeding process and fast job changeovers.
The feeding enhancements include Stack Topography Alignment technology, to automatically compensate for uneven or warped stacks, and Dynamic Stack Alignment technology, to overcome vertically unaligned stacks.
Smart Auto Recovery technology, meanwhile, identifies and overcomes feeding problems related to bad stacking or damaged sheets, avoiding manual operator intervention.
"HP has invested substantially in the feeder as part of its ongoing commitment to the corrugated market and will continue to develop this game-changing industry technology," said HP PageWide Corrugated, Post-Print general manager David Tomer.
Based on HP Thermal Inkjet technology, the PageWide C500 Press provides offset print quality for a wide range of corrugated packaging and display applications on both coated and uncoated sheets. It prints at 75m/min at its top print quality.
The machine is said to reduce the cost of manufacturing boxes "and opens new business opportunities with digital flexibility, direct-to-board printing at scaled volume production".
HP told Printweek the new enhancements are a free of charge upgrade for current PageWide C500 Press users and that "during the rollover process HP updates the customer's existing feeder to include the latest enhancements".
The enhancements will also now come as standard on all new PageWide C500 presses.
"HP is continuously investing in the corrugated market and leading innovations to meet the growing demands, and to enable its customers with more efficient, cost-saving workflow," the manufacturer added.