Epson launches SureColor P5360 17-inch professional photographic printer
Empowering photographers to produce the finest exhibition quality prints, Epson today launched the new 17-inch SureColorP5360 professional printer designed to meet the demanding needs of professional and production photographic markets.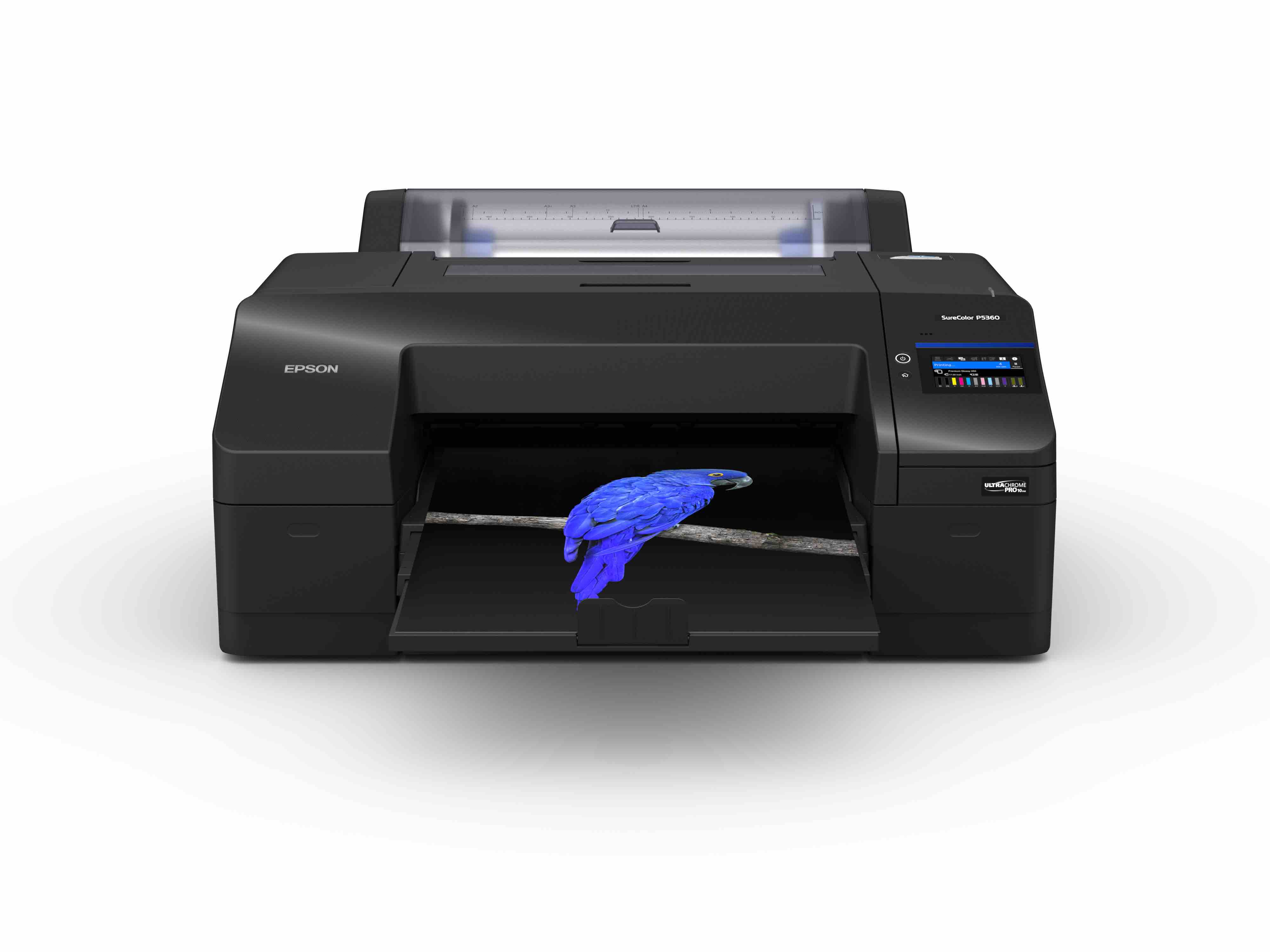 The new Epson 17-inch SureColor P5360 professional printer
Incorporating technological breakthroughs and enhanced reliability to produce prints as the artist intended, the new printer has an improved printhead, new ink set with an extended colour gamut in dark blue hues, plus an advanced print engine for productivity boasting a higher resolution of up to 5760 x 1440 dpi and including sheet and roll capability.
Boasting a refined design, the SureColor P5360 combines an improved advanced Micro Piezo printhead with Epson's Variable Sized Droplet Technology (VSDT). This pairing ensures the consistent production of prints with smooth tonal transitions, allowing it to reproduce intricate details captured by today's modern high-resolution cameras.
Featuring a new 10-colour UltraChrome PRO10 ink set in high-capacity 200 ml cartridges (costing just RRP AUD$169 and NZ$189 including tax), including Violet Ink, the printer delivers an extended range of blue hues. With dedicated channels for photo and matte black inks, there's no ink switching, helping to save time and reduce ink waste.
The printer's built-in Carbon Black Mode increases Dmax, allowing for rich blacks and exceptional contrast on glossy paper.
Offering flexibility and increased productivity, the printer includes a built-in roll feeder, auto cutter and a high-capacity cassette that accommodates up to 100 cut sheets ranging from 8" x 10" (203 x 254 mm) to A2+ (432 x 610 mm) sheets.
In addition, to further support today's workflows that leverage both Epson and third-party media, the SureColor P5360 includes Epson Media Installer, a software application designed to help control parameters for successful printing with a variety of media, including thick fine art papers.
By listening to market needs and incorporating customer feedback, Epson has integrated the latest printhead and ink technologies that are optimised for photography into this new printer so professional photographers can maximise productivity, reliability and consistently produce the finest exhibition-quality prints.
Designed to meet demanding needs, the SureColor P5360 is an evolution to the hugely popular SureColor P5070, adding improved reliability, deeper black density and wider colour gamut in blue hues.
Additional SureColor P5360 features include:
• Intuitive operation – a new large 4.3-inch colour LCD touchscreen and interface allows for easy setup, control and maintenance
• Expanded connectivity – Ethernet, USB and now included, Wi-Fi connectivity
• Advanced software support for enhanced productivity – includes Epson Cloud Solution PORT1 for fleet management and Epson Print Layout software for simple print production
AvailabilityThe Epson SureColor P5360 is expected to start shipping in Australia in December 2023, with a price tag of $3,495.00 (including tax) in Australia and $3,895 (including tax) in New Zealand maintaining the same price point as its predecessor, the SureColor P5070.